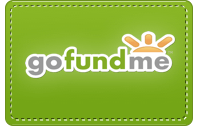 Right now AnimeCon.org/Chrono LC CEO Ryan Kopf (who runs Anime Midwest, Animinneapolis, Meta Con, Con Alt Delete, Yoi Con, and several other events) is suing me in the state of Illinois over articles I wrote about him on my geek news site
Nerd & Tie
. Please consider contributing to
my legal fund
so I can continue to fight this case.
So I've posted about this on social media a bunch, but I'm realizing that I've never said anything about it on my blog. A blog which supposedly is here to chronicle my major life events... even if it's kind of fallen silent these last few years.

But hey, I'm trying to fix that right now.

Crysta is finishing up her time at Purdue, and with our lease ending soon at our current apartment we had to decide where we wanted to go. I mean, it's really the only reason we've been in Lafayette this whole time, and I can literally work from anywhere. We talked about a few different options, and in the end we decided that we needed to regroup and just kind of go

home

.

And for us, even though none of our family is there, our home is Eau Claire, WI.

So we signed a lease on a new place this spring, and this last weekend we drove to Eau Claire, picked up the keys for (and unloaded a bunch of our stuff into) our new apartment. It's in our old neighborhood, and it just sort of makes sense for us right now.

We're moving gradually throughout the month, making multiple trips, and it's (of course) stressful as ever. We'll be in Eau Claire full time on July 1st. I'm doing my best to keep

UnCONventional

,

The Chronicles of Crosarth

, and

Nerd & Tie

updated on their regular schedules, but please forgive me if things slip once or twice. The only time I ever missed an UnCONventional update was when I moved back in 2010, and the rest of that stuff didn't exist at the time.

I'm excited though, and this is going to be good.

I should also point out that I'm becoming fully active in

No Brand Con

staff again, and am now their co-head of Advertising and PR. Because of that, I will no longer be covering anything No Brand Con related on Nerd & Tie. Any future stories on that organization will be handled by Nick or Gen, though I don't foresee many. Frankly, we last ran one on them several years ago.

But yeah. We're going home.

(View Comments)
Read Trae's Blog
|
Follow Trae on Twitter
Note: While it's true that many things are based on actual events, the characters contained within this strip are not meant to be direct analogs for actual people. They are not based off of people living, dead, or undead and any resemblance is coincidental. Nor are they based off of Ferrets.

Because that would be weird.